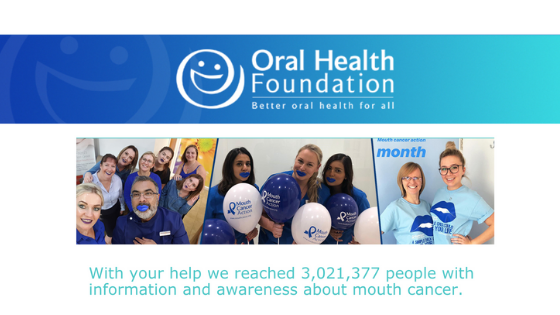 With your help we reached 3,021,377 people with information and awareness about mouth cancer.
To the thousands of you who supported us during Mouth Cancer Action Month – thank you. Your activities and events were truly inspiring and undoubtedly had an impact on how much people know about this truly terrible disease. 
At the Oral Health Foundation, we want to the get more mouth cancers diagnosed at an early stage by raising awareness of the disease while encouraging everybody to be more vigilant about changes in their mouth. 
As an entirely independent charity, the Oral Health Foundation relies on the generosity of its supporters to continue its mission and address the inequalities which exist in mouth cancer.
Our vision is to live in a world where nobody loses their live to mouth cancer. 
Your donation will support us in our year-round efforts improve the public's knowledge of mouth cancer, allow us to provide even more advice and support while enabling us to continue our political work so that we can reduce those affected by mouth cancer while improving the quality of treatment and support in aftercare.  
If our work can save just one of the 2,700 lives that are lost to mouth cancer every year, then it is a more than worthy cause.
Visit www.dentalhealth.org to learn more about our campaigns and activities.