Introduction to Dr & Dr Aesthetics
Dr & Dr Aesthetics is a Doctor and Dentist led Facial Aesthetics brand that provides treatments such as dermal fillers and wrinkle smoothing.
Aesthetics is a combination of creativity and art together with science, helping to empower clients to be the best physical versions of themselves. The opportunity to make this positive change in the lives of our clients is why we do what we do.
Our ethos is to provide a natural but noticeable result that leaves you glowing with confidence.
Our Team
Dr Karishma Kanabar MChd BChd BSc MFDS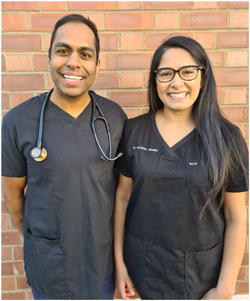 Dr Karishma is co-founder of Dr & Dr Aesthetics together with her husband Dr Ravi, and is a resident Dentist at Smile Essential. She qualified as a Dentist in 2017, graduating from Leeds Dental School, and has since developed her skills as an aesthetics practitioner by utilising her sound knowledge of facial anatomy. Dr Karishma is known for her meticulous eye for detail and perfectionist approach which ensures her patients achieve the perfect "tweakment".
Dr Ravi Damani MBChB, BSc (Hons), MRCGP
Dr Ravi is co-founder of Dr & Dr Aesthetics together with his wife Dr Karishma. He has been a qualified NHS Doctor since 2014, graduating from Leicester Medical School. His medical background enables him to practise holistically, ethically and utilising a patient-centred care approach. Dr Ravi is known for his calm demeanor and light hands which leave his facial aesthetics patients brimming with confidence.
Our Values
Value

We only ever use premium products. We will always be open and supply the details of any products used so you know they are trusted, genuine and quality products.

Bespoke

We pride ourselves in creating natural but noticeable results, leaving you glowing with confidence. We carry out a consultation tailored to you, taking a holistic approach and discussing together the best treatment option to achieve your goal.

Relaxed

There is always time to discuss treatment options with your clinician in a relaxed and comfortable atmosphere.

Peace of Mind

We are fully accredited medical professionals who are dedicated to offering an-out of-hours service post treatment. We review all our patients after their treatment. We are always here for you.
What Our Patients Say
"Always a warm welcome from both Dr Karishma and Dr Ravi, this puts me at ease. I wouldn't go to anyone else for my botox" – S.Taylor
"A very relaxed clinic and I always love my lip fillers, they look so natural" - M. Patel
"I cannot fault the service I experienced. Dr Karishma and Dr Ravi were informative, professional, honest and most of all gentle. They both have a very caring and positive approach which eases any anxiety you may be feeling. All communication with them has been a pleasure" – A. Mangham